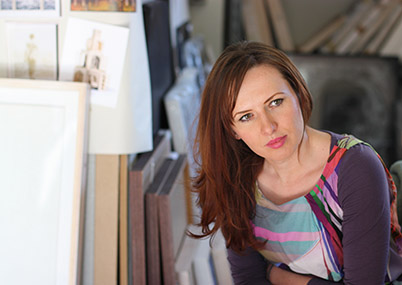 About Mila

Mila Furstova is an award winning internationally exhibited artist, who has shown in 20 solo shows in many countries including Britain, USA, France and the Czech Republic over the last decade. During this time she has won 14 prestigious awards. Her work has become part of important private and public collections, including that of Queen Elizabeth II and the V&A Museum in London and has featured in numerous publications.
Born in Czechoslovakia, Mila gained an MA degree in Art, English Language and Psychology at the Charles University in Prague, whilst simultaneously studying for her BA degree in Fine Art Printmaking at the University of Gloucestershire.
In 2001, Mila Furstova received her Masters degree at the Royal College of Art and has subsequently lectured at Coventry University and The University of Gloucesterhire.
In 2003, Mila was appointed the first Artist in Residence at the Cheltenham Ladies' College, where she founded and ran an Etching studio till 2010.
In 2009, Mila Furstova became the youngest ever elected Academician at the Royal West of Academy in Bristol.
In 2014, Mila's work reached over 400 million people when she was commissioned to make the artwork for the Coldplay Ghost Stories album and 4 singles.
In 2015, the sale of Mila's Coldplay artwork raised over £100 000 in aid of children's charities.